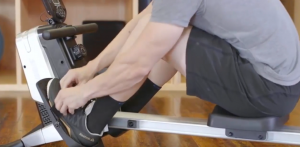 The rowing machine is one of the latest craze ever to hit the fitness world. Believe me when I say this is one exercise equipment that you'd definitely want to bring home. Forget the bulky treadmill or even the stationary bike. As long as you have a rower in your house, you should be burning more calories and strengthening and toning your muscles a lot more efficiently. You can also check out rowing machine reviews to get an idea of what I'm talking about. And if you need some more convincing, here are 5 kickass reasons why you've got to have a rowing machine in your home.
 

Great for the heart, lungs, and other vital organs
Whether you're as young as I am or is already in his or her golden years like my mom you know that aerobic exercises are important for overall health. Doing cardio can help us lose weight, strengthen our immune system, and even increase our stamina so we can perform many of our daily activities a lot more efficiently. Rowing effectively works out a huge number of muscles, stimulating the heart to pump even more. You'd also be regulating your breathing, allowing you to be more conscious of the way you take in air. Overall, this leads to improvement in oxygenation. The more oxygen, the happier and healthier body organs can become.  
 

Burns more calories in less time than riding a bike
Not many know it, but a full 60-minute workout on a rower burns calories equivalent to riding an exercise bike for about 78 minutes. On average, pulling and pushing on the rowing machine can help you shave off 600 calories in an hour. That's actually not bad, considering you'd need about 1.5 to 2 hours of moderate intensity workouts to achieve the same feat. Now couple this with more sensible food choices and you should be on your way to a slimmer you. Wearing that slim and sexy dress you've had in your closet for a long time is now a possibility.
 

Strengthens and chisels muscles in both upper and lower body
One of the best things I love about rowing machines is that I get to work both my upper and lower body, including the muscles of my core. This can have a significant impact on our posture especially those among us who have to sit all day long behind our desks. Our bums should really look firm and amazing especially when donning a really body-hugging outfit. Stronger upper body muscles also help reduce back pain and improve stronger grip of the things we hold every day. Now that's what I call whole-body workout.
 

Won't hurt your joints
Some of my friends complain of pain in the joints whenever they run or jog. Well, this is understandable since every time your foot strikes the ground it's like smashing it into a brick wall. Even though you have the best-cushioned running shoes, the impact forces will still reverberate through the rest of your legs and your body. Unfortunately, this doesn't bid well for those with already-vulnerable joints especially at the ankles and the knees. Since rowing makes you firmly plant your feet on the pedal, there are no impact forces that will be generated. This keeps the integrity of your joints.
 

It's absolutely fun
Whether you care to admit it or not rowing is fun. If you get one of those machines where you can actually integrate a variety of rowing simulations, you'd definitely love the experience. The only thing that is missing is the splash of water. There are machines that come with water wheels to give you the sound of splashing water. Add your favourite form of entertainment and you've got a really fun way to stay fit.
There are plenty of reasons why you really need a rowing machine in your home. And if you're still not convinced, you can try one of these machines from your favourite gym. I promise you, it's worth it.