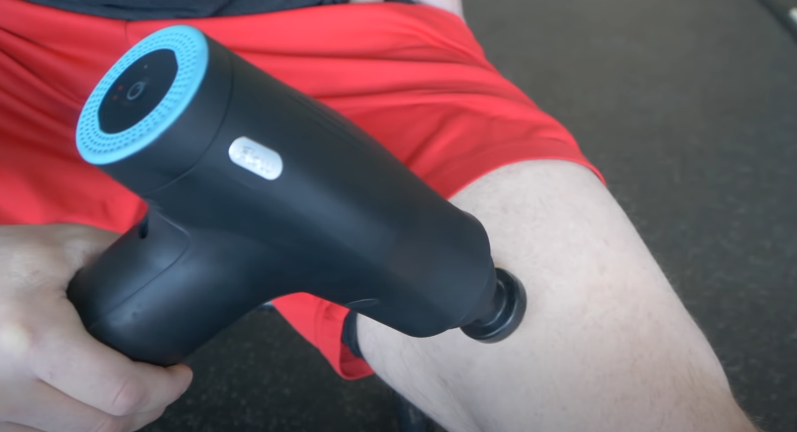 You bought your massage gun and are excited to use it. However, you should know that improper use of this device can bring more pain than relief.
This does not happen often, especially if you read the manual and follow the instructions properly. Then you can really maximize the potential benefits of the best massage gun to buy in Australia.
Steps to Use Your Percussive Massager
Turn on your massager but do not let it touch your body yet. You might want to check the pressure first so you will not be surprised by the intensity.
Rest the massage gun on your body. Even if your muscles hurt, you do not need to push it hard or apply any more pressure. The massager will apply the pressure you need.
Let the device glide along the targeted muscle, moving slowly at around 1 inch per second or even less.
If you have a specific knot that hurts more, then let the massage gun stay there a bit longer. Just make sure you also include the area around it.
Basically, these are the 4 simple steps in using your massage gun. It does not sound like you can make many errors, right?
Well, there are people who do end up hurting themselves. I made this mistake myself because I did not follow the golden rule, which is to not apply any additional pressure.
The fact is, pushing the massager deeper into your muscles will cause pain and even lead to damaged tissues. 
Since I made this mistake, I have been careful about sticking to the basic steps of the massage gun. Beyond letting the device do the work (it will apply the pressure you need), I also know to avoid using it in the following situations:
When I Have Muscle Strain or a Sprain
I have been tempted to use the massage gun to deal with a pulled muscle, a muscle strain, or a ligament sprain, but this is not just a bad idea, but this is the worst way to use your massager.
The vibrations will cause more injury to the tissue and will cause you a lot of pain. Instead, follow the PRICE method (Protection, Rest, Ice, Compression, and Elevation) when you strain a muscle. Never use the massage gun without talking to your doctor or a therapist.
When I Have Some Inflammation
Inflammation happens when there is overstimulation of a specific area like a tissue, tendon, or the bursae (the fluid-filled sacks between the ligament and the bones). Massaging will only make the problem worse, so avoid using the massage gun on this spot specifically.
On Varicose Veins
I read on the manual of my massage gun that using this device on varicose veins is not only painful but it can be dangerous as well. The vibrations can damage the weak structure of the veins and lead to tearing or creating a clot.
In turn, a loose clot can cause a stroke or a heart attack. Moreover, if you are using blood thinners, you might want to talk to your doctor before you use a massager.
When I Have A Fever
Not many people know that massages can increase body temperature. Thus, when I am sick or have a higher temperature, I generally wait to use the massage gun until the fever goes down.
Use Your Massage Gun Wisely and Safely
When you spend your money on devices like a percussive massager, you will want to enjoy its benefits. This happens when you use it properly and know when to avoid it.
In the same way that trained massage therapists know how to deal with specific types of injuries, you should know where not to use it.