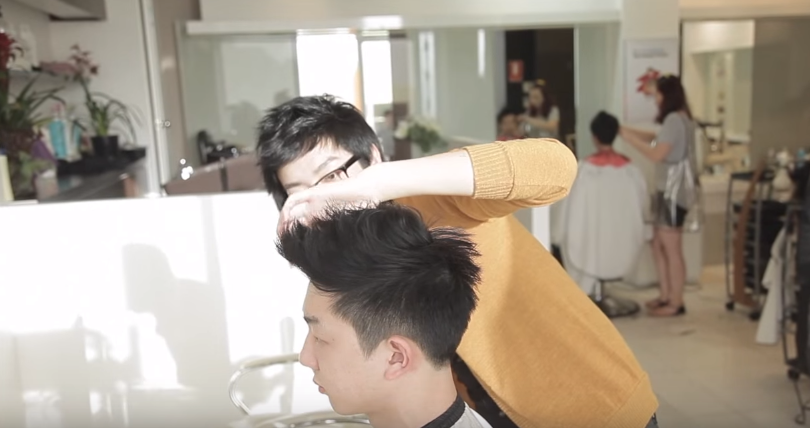 The increasing popularity of K-Pop music has undeniably influenced not just the young Koreans but the youth from other parts of the world as well. Proofs of the so called K-Pop invasion are the numerous bands and music artists that have achieved tremendous success. Some of the most popular are EXO, Super Junior, 2NE1, SHINee, Big Bang, Bangtan Boys, Infinite, Girls Generation, G-Dragon, f(x), Got7, CNBLUE, Taeyang, A Pink, Miss A, Sandara Park, Kai, and many others. These artists have also hugely influenced people, particularly the teenagers, on the way how they want to style their hair.    
In Australia, for example, many of the youth are going gaga over the kind of Korean hair style they want to achieve at certain season or months. There is now an apparent increase in the demand for Korean style haircut in Melbourne and other cities of the land down under.
Haircut Styles for Girls
Many young girls and adult women nowadays are experimenting on Korean-inspired outfits. As a consequence, they also try different Korean haircuts. The most popular since the last several years are messy top knot, baby doll, long high side ponytail, front braid Lolita ponytails, Odango or panda ears, modern Rapunzel, pixie shag, swept back fringe, Korean bun, soft waves, ribbon bun, and asymmetrical bob.
The messy top knot is the world's hottest hair trend, which is generally Oriental. It is an unconventional style that is characterized by untidy hair and top knot that look somewhat messy. The catch is that it has a modern touch that is manifested in the varying hair length and more vibrant color.
Sandara Park is known for her unconventional and exotic hair styles. Some of the styles she wore are the Leaning Tower of Pisa, purple love, Gimbab, scalp whirlpool, snake bangs, short comb-over, troll doll, west side swag, ultimate frizzball, and ajumma hair.   
Haircut Styles for Boys
Korean boys and men have been making some noise in the international scene in recent years. One striking reason why they are becoming more famous is their unique and distinct style in terms of fashion and haircut. Among the popular styles of haircuts for boys now are blonde straight, medium straight with side bangs, trendy spiky, medium messy, stylish thick straight, white medium, casual spiked, messy straight, messy medium, brown layered, straight dark, short side, basic short, young straight, cool medium, classy spiked, wavy, pompadour, side swept, and dark wavy.
Taeyang is hugely famous for being a member of Big Bang and as a solo artist. Fans are always anticipating for his next music video because he surely is donning a new style for his hair. Among the styles he wore include comrow, mohawk, swiss rolls, braided mixed blonde and black, braid wrapped around the head, long and curled mohawk, super saiyan 3 mohawk, and combed down blonde.   
In general, Korean hair styles are more innovative and somewhat deviant compared to others. The styles are reflective of the Korean's passion for texture, color and distinct styling. These are probably the reasons why non-Korean people are also experimenting on the said hair styles. 
To read more interesting articles such as this, click here.